Halal Standards and Management System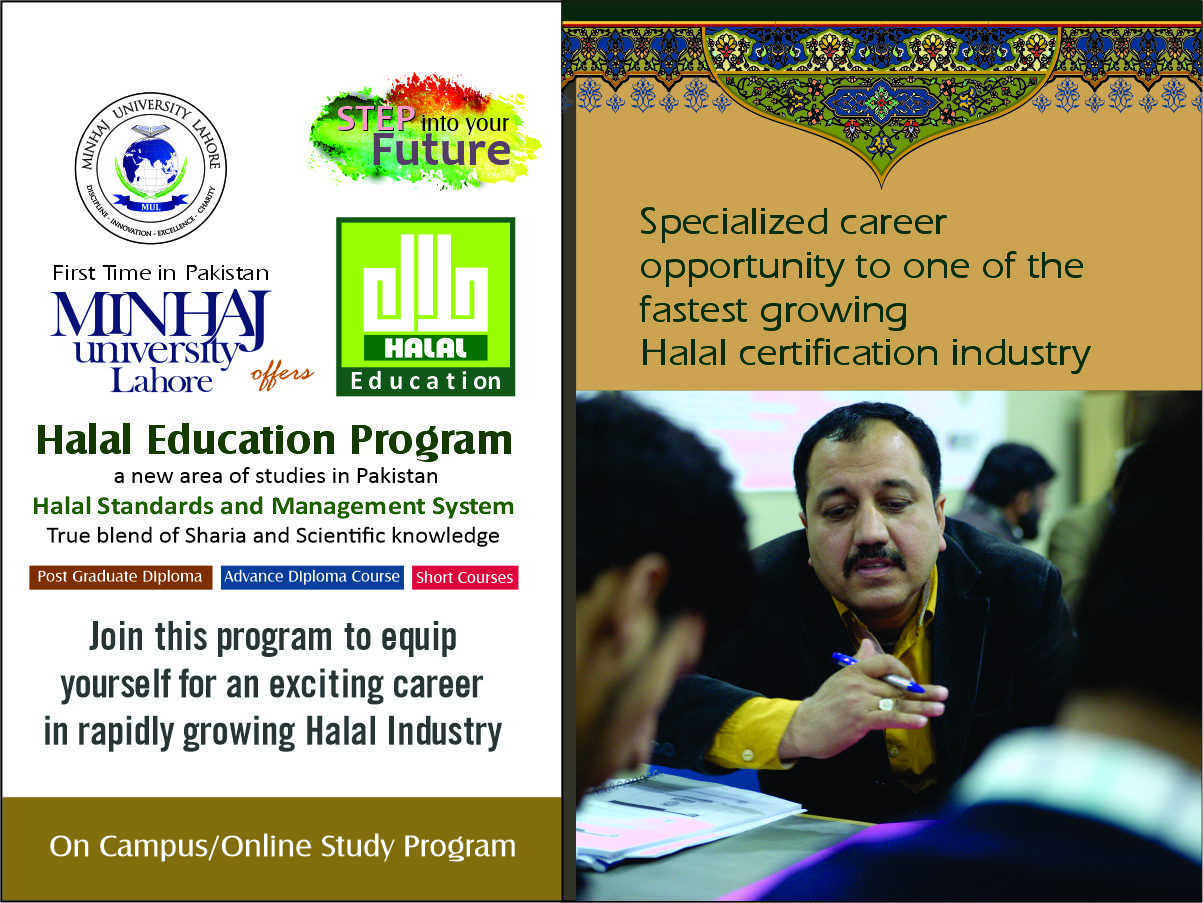 Minhaj University in collaboration with Minhaj Halal Certification has designed PGD (Post Graduate Diploma) in Halal Standards and Management Systems to meet the needs of the Modern Workforce and provide an alternative solution for companies and employees prevented from accessing face to face learning. A wide range of topics including Sharia laws, Food Unit operations. Auditing System, Halal Standards for Food, Pharma, Cosmetics, Media, Tourism and modest fashion allow you to gain a higher level of knowledge according to your role and responsibilities. You will be granted sufficient online access to pre-recorded and live lectures so you can complete the courses successfully at your own pace.

Salient Features:
Offering Diploma for the first time
1 Year – Formal Education
Blend of Shariah and Science
Extensive Shariah Research
Offered by Chartered University
On Campus Studies
Online Studies for International Students
Flexible & Cost Effective Weekend Classes
Safe and Conducive Environment
Conducted by Industry Experts
Course Duration
1 Year
2 Semesters (6 Months Each)
Exam will be conducted at the end of each semester
After completion Internationally Recognized Degree will be awarded
Who Should Pick?
Anyone from any background or professional can opt to this course. This PGD course has been designed in a way that a Student from Sharia background can learn knowledge of Food and Science and vice versa. however personnels from the following industry can get maximum benefit.
Food Technologists
Industrial manufacturing specialists
Chemical Engineers
Business Development Managers
Shari'ah Advisors
Quality Controllers
Entrepreneurs
Training Managers
Product Managers
Audit Professionals
Lecturers
What you would get?
Students would get acquainted with following improved industry knowledge on the subject that can be beneficial for them to choose a new career as well as to improve themselves in existing organization.
Detail understanding of Halal and Haram concept
Halal food processing procedures
Islamic concept of Zabiah
Concept of Halal in Food industry
Concept of Halal in non-food industry
How to consider Halal and Haram food

For More Details:
Whatsapp: : +92-300-1774242 or Call +92-42-35142024