Minhaj Halal Participation in Karachi Expo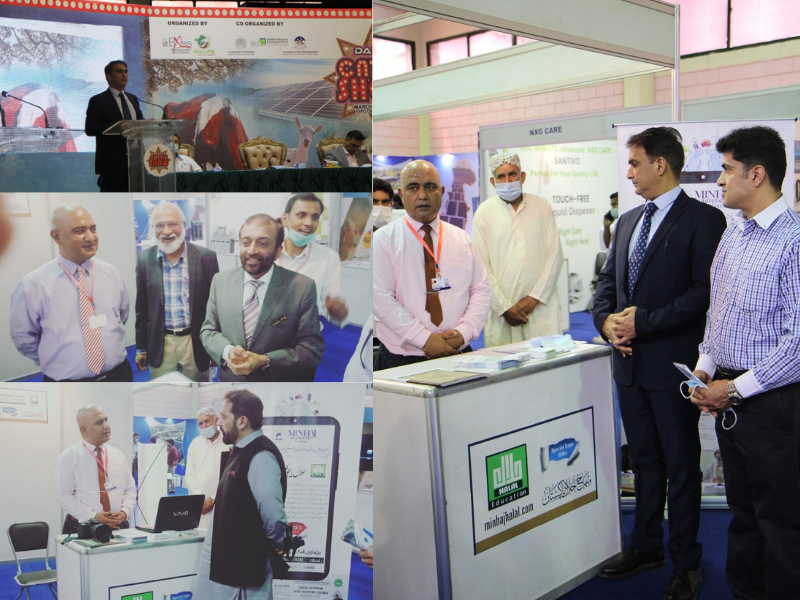 Pakistan is utilizing only 20 % of its production capacity in the livestock and dairy sector, which is one of the most important business sectors, if we discuss the Halal Economy. With the development of this sector, the country could earn a lot of foreign exchange.
The DALFA Cattle Show and International Conference held in Karachi Expo Centre, from 21 to 23 March 2021. The three-day cattle show was inaugurated by Sindh Governor, Mr. Imran Ismail. Thousands of people attended this conference where more than 200 companies had set up their stalls including the dairy, poultry, fisheries sector, state-of-the-art technology providers, food, pharmaceutical companies, the livestock sector, banks, universities and meat exporters. Minhaj Halal Pakistan participated and facilitated number of people for Halal Education Program which is being started in Minhaj University Lahore. Various experts, researchers, Industrialists, and businessmen visited the stall of MHP at this eve, promotional material and information about Postgraduate Diploma, Advanced Diploma, and Short courses was provided so that people of Karachi can also take maximum benefit by the online facility of Halal Education Program. Mr. Faraz Akhtar Malik, Operations Manager, Minhaj Halal Pakistan also visited Karachi for these 3 days activity. During his stay in Karachi, he interacted with many officials and technocrats. Mr. Khawja Amir, Mr. Masood Usmani, Mr. Zahid Siddiqui, Mr. Junaid Rana, and various other team members from Karachi also facilitated the MHP Karachi visit.
Additionally, we participated in the International conference at this event. During the conference chaired by Dr. Fateh Muhammad Barfat, Vice-Chancellor, Sindh Agriculture University, Tando Jam. Other participants of this conference were:
Dr. Nuzhat Khan, former DG, National Institute of Oceanography.
Shabnam Baloch, Director, Sindh International Trade Centre.
Dr. Nazir Hussain Kalhoro, Director, Sindh Institute of Animal Health General.
Sindh Secretary Agriculture Price and Supply Rahim Soomro.
Sindh Secretary Livestock and Fisheries Department Ijaz Ahmed Mahesar.
Muslim Mohammadi, Director Fisheries Development Board.
Dr. Arif Saleem Memon, Salam Takaful Agriculture Consultant, Lahore College.
Dr. Shafqat Fatima, Associate Professor, Department of Zoology, Women's University.
John Kawana, Deputy Consul General and Trade Commissioner, Astrad Dubai.
Dr. Sajjad Mehmood Shehzad, Vice-Chancellor, Minhaj University Lahore.
Dr. Syed Saud Arshad, Veterinary Consultant and
Mr. Akhtar Ahmed Bhugio, Director General of Pakistan Halal Authority also addressed and discussed many issues related to this